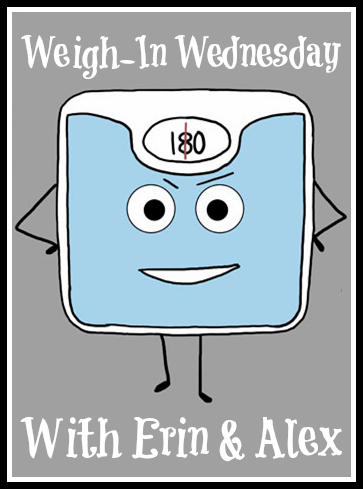 Happy Wednesday! Linking up with
Erin
and
Alex
again. It's that time again to step on that scale and hope for a lower number than the week before! All the hard work you put in over the week leading up to it hopefully has an impact on that number...and you have something to show for it! I did much better in the eating department(still by no means perfect), and worked out a LOT more. It showed as the scale is down over a pound!
...........................................
I think this is somewhat in part to starting the Fitathlon this past week. Sunday alone I logged 5.2 miles on the treadmill(4.5 of which I ran), and then instantly onto the stationary bike and did 7 miles. I had all intentions of going out the past 2 nights but life happens and sometimes you have to be there for other people. So I'm not beating myself up about not going and know that I hopefully will be back out there tonight. I want to at least get 15 miles on the bike logged and maybe a mile or 2 on the treadmill. We shall see though!
In unrelated news...my not so little girl has decided to full blown into potty training this week. So most of my days and nights are spent in the bathroom.(Another reason it's been hard to get to the gym...I know this really sounds like an excuse..but I would rather take time out of working out to save some money on diapers and get this done! Daddy isn't the most comfortable with potty training...so it falls on me!) She is doing AMAZING. In the past couple of months she's maybe gone a handful of times and didn't show a whole lot of interest, and I didn't want to push her. When her friend here at daycare started training...she just all of a sudden was ready to start. The first morning was great...she stayed dry. The afternoon was a bust though because she didn't get a great nap in and was grumpy. Yesterday she stayed dry all morning and all afternoon. We had a little accident after supper and then it was time for bed. She has done really really well again this morning...so fingers crossed she'll be completely trained by her birthday at the end of February! I'm really surprised at how well she's taken on to it...and so proud! She walks around all day saying "I so prouda you!!" She really knows how to work this mommy's heart....
Hope everyone else had a great week and successful weigh ins!!
Pin It